CLASSICA é um periódico semestral, arbitrado, de caráter científico e cultural, editado pela Sociedade Brasileira de Estudos Clássicos (SBEC) desde 1988. CLASSICA se destina à divulgação de trabalhos originais e inéditos que tenham por escopo os vários aspectos das culturas da Antiguidade clássica, sem, no entanto, excluir outras sociedades antigas do Velho Mundo. Sua ótica é diversificada e interdisciplinar, promovendo o constante diálogo entre a História, a Literatura, a Antropologia, a Arqueologia, a Linguística, as Artes e a Filosofia. CLASSICA – Revista Brasileira de Estudos Clássicos recebe submissões, em fluxo contínuo, para as seguintes seções: Artigos, Artigos de revisão, Depoimentos, Instrumentos de pesquisa, Notas de pesquisa, Notícias bibliográficas, Resenhas críticas e Traduções. As condições para submissão de originais em cada uma das seções estão assinaladas em "Políticas de Seção".
Acesso aberto sem cobrança de taxas a autores e leitores.
CLASSICA is an arbitrated journal, of scientific and cultural nature, biannually published by Sociedade Brasileira de Estudos Clássicos (SBEC) since 1988. CLASSICA is geared toward the dissemination of original and previously unpublished works that cover various aspects of Classical antiquity cultures, not excluding, however, other ancient Old World societies. It has a diversified and interdisciplinary perspective, promoting a permanent dialogue between History, Literature, Anthropology, Archeology, Linguistics, the Arts, and Philosophy. CLASSICA – Revista Brasileira de Estudos Clássicos accepts submissions to the following sections in a continuous flow: Articles, Reviews, Testimonies, Research tools, Research notes, Bibliographical news, Book Reviews, and Translations. Conditions for submission of originals are listed under «Section Guidelines."
Open access journal free of charge for authors and readers.
Classica: ISSN 0103-4316 – Versão impressa
Classica On Line: e-ISSN 2176-6436 – Versão eletrônica
DOI: 10.24277
email: revistaclassica@classica.org.br
Catalogada em L'Année Philologique Portal CAPES Diadorim IMPACTVM AWOL LivRe Sumarios.org SJIFactor Latindex InterClassica ZBD (Elektronische Zeitschriftenbibliothek) REDIB DOAJ DIALNET Plus ERIH PLUS Google Acadêmico EBSCO JournalTOCs Mir@bel DRJI PKP Index Oasis.br OAJI MIAR
Abreviatura para indicações bibliográficas: Classica (Brasil)

Notícias
XXII Congresso da SBEC – Antiguidade: Desejo e Liberdade
Estão abertas as inscrições para o XXII Congresso da Sociedade Brasileira de Estudos Clássicos – Antiguidade: Desejo e Liberdade, a se realizar entre os dias 2 e 6 de setembro de 2019 em Juiz de Fora-MG, na Universidade Federal de Juiz de Fora (UFJF).As modalidades de inscrição são: comunicação oral livre, comunicação coordenada de grupos de estudo (restrita aos grupos de estudo filiados à SBEC), pôster, lançamento de livros (obras publicadas entre 2018 e 2019) e proposta de minicurso.As inscrições devem ser feitas diretamente no site do Congresso: www.congresso2019.classica.org.br
Publicado: 2019-05-12
15th Congress of the FIEC and the Classical Association annual conference 2019
The 15th conference of the Fédération internationale des associations d'études classique will take place in conjunction with the 2019 Classical Association annual conference on 4th-8th July 2019 in the Institute of Education (UCL) in London. FIEC business meetings will take place on 4th July, and the conference proper will begin on 5th July.
Publicado: 2019-02-04
Mais…
v. 32, n. 2 (2019)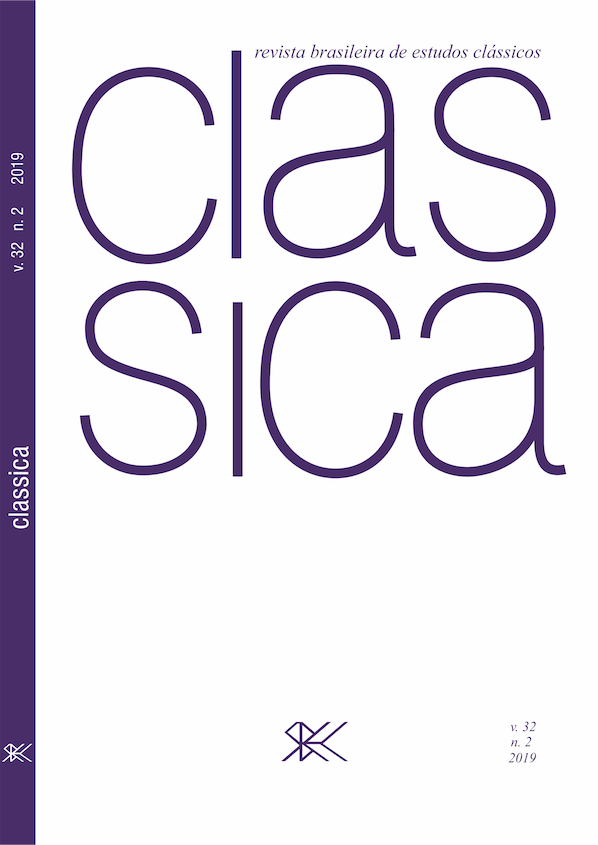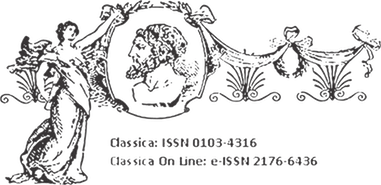 Para mayor información: https://revista.classica.org.br/classica/index